Summer Wedding Outfits for Every Dress Code Under $100
When we were kids, summertime meant family vacations and summer camp. Now that we're grown, summertime usually means high wedding season. While we love celebrating love, it can certainly take a toll on our wallets springing for a new cocktail dress or evening gown each time a wedding rolls around.
Another one of the most head-scratching aspects of dressing for a wedding is interpreting the dress code, but I'm here to pull back the wool. Here are some appropriate options for every style of wedding that won't break the bank. (Warning: THIS IS A MONSTER POST)
Dressy Casual
Dress code dressy casual? Think flowy maxis, sundresses, and jumpsuits in casual, light fabrics like cotton. A good, fun print is always welcome — just remember, avoid anything that is majority white, beige, cream, off-white, nude, and anything that could be mistaken for "bridal." Save these colors for the bride! Whenever in doubt, always err on the side of caution. Also, if you're not sure if something is dressy enough, I would just assume it isn't and look for something that's more formal for the occasion. You can never be too careful. For the laid-back nuptial, here are some good options.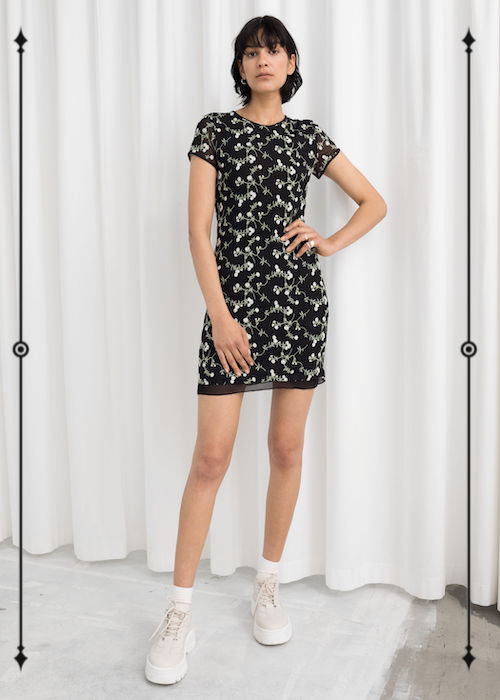 Superdown Johanna Maxi Dress ($58, on sale from $82) // Lulus Love Dottie Brown Polka Dot Satin Wrap Dress ($58) // & Other Stories Floral Embroidered Mesh Mini Dress ($99) // Amuse Society Regency Midi Dress ($75) // Lulus Fleur-Evermore Blush Pink Floral Print Ruffled Midi Dress ($65) // Lulus Fresh Picked Green Floral Print Backless Maxi Dress ($75, on sale from $94) // C/MEO Collective Heart of Me Dress ($96, on sale from $160) // Lulus Nellie Green Polka Dot Ruffled Midi Dress ($34, on sale from $68) // Free People She's A Waterfall Maxi Dress ($77, on sale from $128) // Superdown Patricia Blazer Dress ($70) // Lulus Bright Here, Bright Now Red Ruffled Culotte Jumpsuit ($89)
Cocktail / Black Tie Optional
Depending on the venue, cocktail refers to a dress that hits between mid-calf to mid-thigh. However, dressy maxi dresses, pantsuits, and jumpsuits are usually okay too. Black tie optional means you can wear anything from this category or the Black Tie category, but I wouldn't go any more casual than that.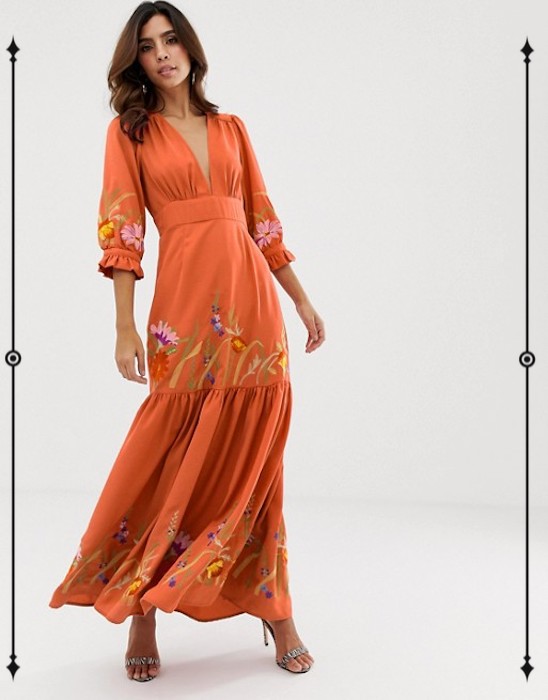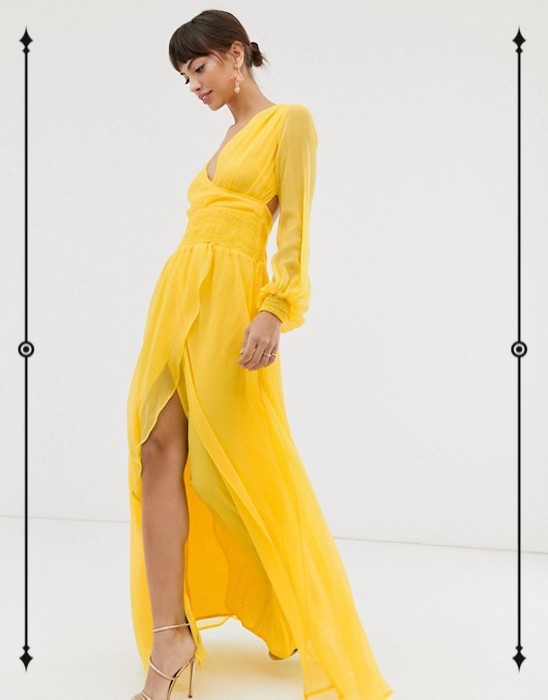 Lulus Beautiful Day Taupe Floral Embroidered Strapless Midi Dress ($65, on sale from $108) // A.L.C. Floral Lace One-Sleeve Minidress — few sizes left! ($94, on sale from $895) // ASOS Design Plunge Neck Maxi Dress With Border Embroidery ($87) // // Lulus Frill and Grace Lavender Lace Off-the-Shoulder Dress ($54, on sale from $67) // Keepsake Retrospect Midi Dress ($76, on sale from $255) // W118 by Walter Baker Emi Ruffled Printed Crepe de Chine Midi Dress ($90, on sale from $228) // Lulus Endless Endearment Blush Floral Print Maxi Dress ($92) // Keepsake Now And Then Midi Dress ($57, on sale from $190) // Hope & Ivy Twist Front Cami Dress in Jacquard ($82) // Iro Granby Floral Georgette Dress ($100, on sale from $390) // ASOS Design Maxi Dress With Smocking And Balloon Sleeve ($72) // Bardot Glimmer Sequined V-Neck Short Cocktail Dress ($82, on sale from $169)
Black Tie / White Tie
Think red carpets, galas, and evening gowns. For the upscale wedding where they pull out all the stops, you definitely don't want to show up underdressed. There isn't a whole lot of difference for dresses and gowns between black and white tie — the difference is usually in the color of the men's bow ties. White tie is more formal, so think royal weddings and state dinner-level affairs.